VHF Super-Regenerative Receiver with 12V B+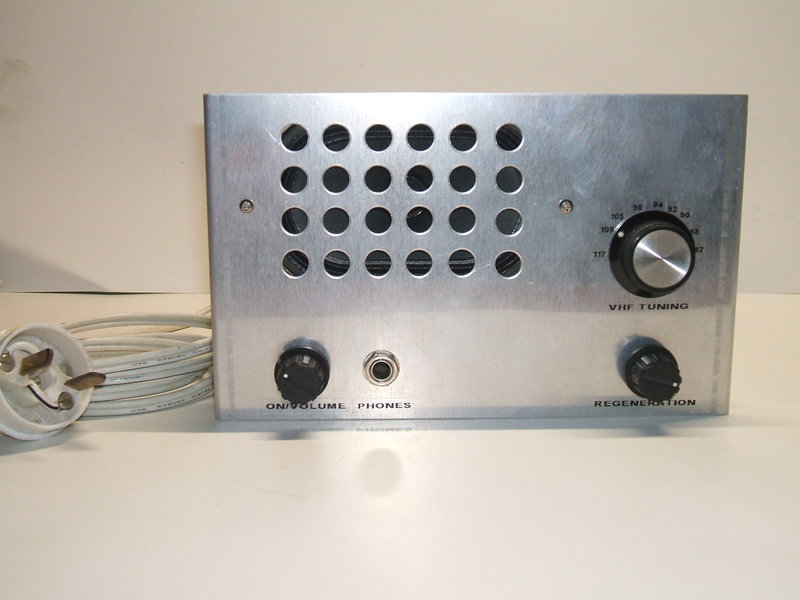 This is an experimental set to find out the practicalities of valves operating at VHF with only 12V B+. As seen with the 12V Superhet, ordinary mains valves work quite well with low voltage, with the main limiting factor being audio power output.
Provided that valves could be made to oscillate with only 12V plate voltage at VHF, then a receiver for this band should be possible. The article on the 12V Superhet should be read first to aquaint oneself with 12V operation and various aspects of design.
Experiments at VHF.
Testing the 12AT7 super regen receiver at low B+ showed that the 12AT7 would not be a good candidate. It could be made to work down to about 45V, but 12V operation not only to get oscillation, but super regeneration would be too difficult. For super-regeneration to occur, strong oscillation is required; more so than for an ordinary regenerative detector.
Knowing the 6ES8 works well for audio and medium waves at 12V, this was the next choice. It is, after all, a VHF valve rated for 90V on the plate.
Indeed, it oscillated in a Hartley configuration with 12V direct to the plate. In this form it could be used as a local oscillator for a VHF superhet, or as a low power FM transmitter.
However, the introduction of a plate load resistor to extract the detected audio killed the oscillation, due to the plate now being less than 12V. It was however, possible to restore oscillation by taking the grid resistor to B+, "forcing" sufficient cathode current to flow.
Further experimenting with the grid resistor and capacitor allowed super regeneration, but the control was somewhat abrubt.
The E88CC.
Because I had them to hand, I tried an E88CC instead. This resulted in very good performance with smooth oscillation control. This valve is one of the "SQ" (Special Quality) series. These valves were made for exacting industrial applications and include such features as 10,000hr life, low microphony, and gold plated pins. Needless to say, in the present time they are highly sought after by the audio crowd.
The Circuit.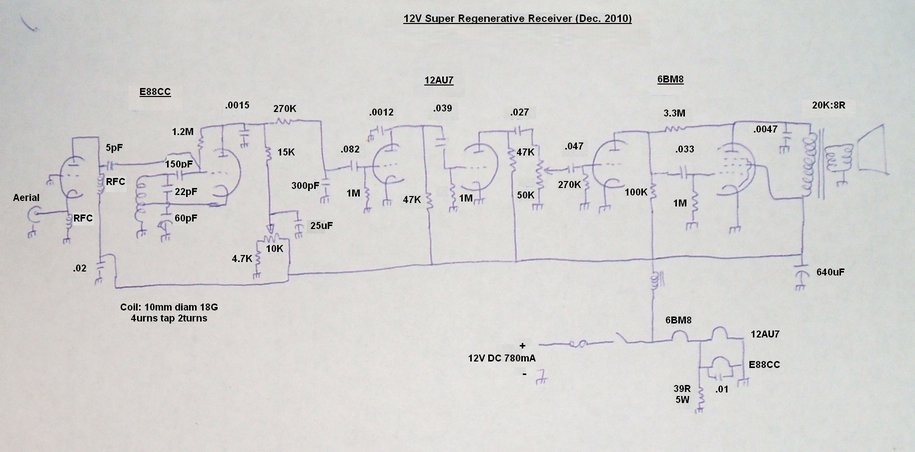 As can be seen, there is nothing unusual about the design. Several stages of audio amplification are required given the low audio level from the detector. The audio output stage is again nothing unusual, except of course for the 12V supply.
RF Amplifier.
The aerial is fed into a conventional grounded grid untuned RF amplifier. It is the same design I've used in most of my valve VHF receivers. While it has little gain, it is required to isolate aerial loading effects from the following stage. The only difference here is that no bias components are required (or desirable) given the very low voltage. The cathode and plate chokes were likely looking odd ones I had, but for anyone constructing this receiver, the homemade VHF chokes should be used (75cm of 26 B&S wound on a 6.5mm plastic form). These are the same chokes I recommend in all the VHF receivers now.
Super Regenerative Detector.
Because of the low plate voltage, the circuit used for 6C4 and 12AT7 receivers was not directly suitable. At 12V, much more "encouragement" has to be implemented to get a sufficiently strong oscillation to occur. To acheive this, instead of the E88CC cathode being earthed via a choke, it connects to a tapping halfway up the oscillator coil. The grid resistor is returned to the plate instead of earth so as to get more plate current flowing than would ordinarily occur. With this design, there was no problem in obtaining super regeneration. Oscillation level is obtained simply by varying the plate supply as required for optimum reception. Typically, about 80mVp-p of audio is produced. Filtering of the quench is by the 270K, 300pF, and .0012uF, in the usual way.
For those that cannot get an E88CC, use a 6ES8/ECC189. I found a 47R connected in series with the cathode improved the smoothness of the regeneration control when using this valve.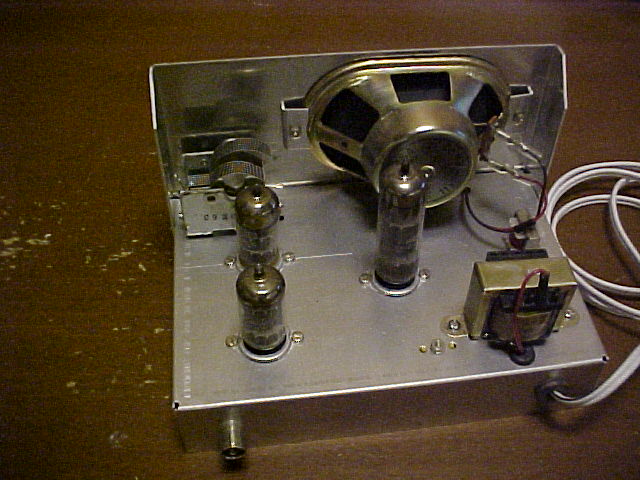 Audio voltage amplifiers.
Initially, I tried a 12AX7/ECC83 but this valve performs poorly at 12V. Better results were obtained with a 12AU7/ECC82. Grid leak bias is used for all stages. Cathode bias is not a good choice because it subtracts from the already low plate voltage. As it is, sufficient bias is developed with a grid resistor alone. This comes about because the grid picks up some of the electrons emitted by the cathode. Only a fraction of a volt is developed with the values shown, but at low plate voltages, this is all that is required.
Audio output.
While the 6CW5/EL86 is the best performing output valve on 12V with reasonable heater current, tested so far, I decided to use a 6BM8/ECL82 in this receiver for a comparison. One advantage is that it contains a triode for additional voltage amplification.
Maximum power output was found to be with a plate load of 20K. With such a high impedance load and only a 12V supply, power output is only 2.6mW.
While that sounds incredibly weak, it is actually sufficient in a quiet room, and quite loud in headphones. The 1M pentode grid resistor suited the particular 6BM8 I used, but may need to be altered for others. To determine the correct value, feed in an audio sine wave to the triode plate and set the pentode grid resistor for maximum output before clipping occurs. Then feed the signal into the volume control and adjust the triode grid resistor likewise. Do not overdrive it or grid rectification will occur, giving misleading results. The 12AU7 stage is less critical with the lower level of signal. If only headphone reception is required, the 12AU7 stage can be omitted. However, nothing in the way of current consumption is saved due to the series parallel heater circuit.
Power Supply.
The B+ current draw is so low that it can be ignored; the receiver current consumption being 780mA as dictated by the heater circuit. A series parallel circuit is used for maximum efficiency. Obviously, if you were to experiment with different valves, it is essential to see that heater voltages are correct.
A small choke is used to filter out noise present on my 12V house supply, with a 640uF filter for audio and .02uF for RF bypassing. The fuse is not critical and is really there to protect the wiring to the battery rather than anything in the receiver. Anything around 2 to 5A would be suitable.
Perfomance.
Operation is different to the 150V powered 6C4 and 12AT7 designs. First thing evident is that below the level of oscillation where super regeneration takes place, the receiver works quite well as an ordinary regenerative detector. Regeneration is very smooth. While sensitivity is less, audio quality is superior.
With an outdoor aerial, high power stations 80km away provide good reception. When operating in super regenerative mode, there is an increase in sensitivity but the usual super regen hiss becomes evident on weak signals.
In comparison to the 6C4/12AT7 design, while this receiver certainly works, it does not have quite as much sensitivity and the audio quality is not quite as good. It actually performs better as a straight regenerative set.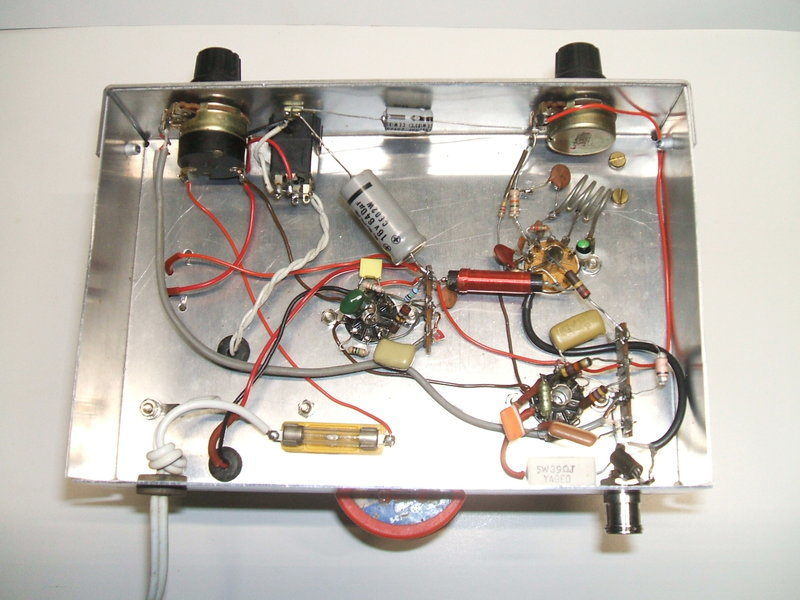 Further thoughts.
There is no doubt room for further experimentation and optimisation, especially for the detector. For example, if it is desired to make this a regenerative only receiver, the grid circuit of the detector could probably be optimised for this. Other types of regeneration control might be worth trying; e.g. the cathode control used in the 6C4/12AT7 receivers.
For headphone only use, it may be possible to use only a 6ES8 after the E88CC to get sufficient drive, thus making a two valve set with lower power consumption.
Given that it is possible to achieve oscillation at VHF with only 12V, it opens further possibilities. For example, a 12V Fremodyne, low power VHF transmitters, or a superhet receiver.
---