TREK Y5 Mountain Bike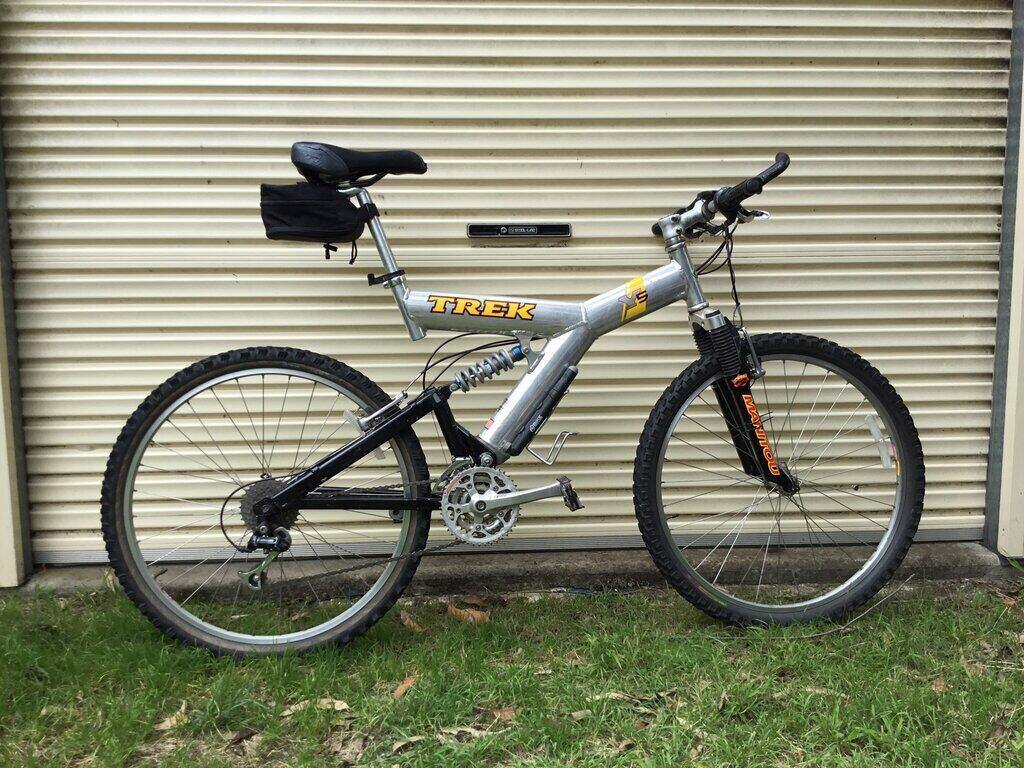 After doing a lot of research on the Y bikes, I decided on a Y5. I figured that now was the time to get a bike with no compromises. With OCLV still being too expensive (up to around US$800-1000), the dream Y33 was still a bit far off, so I concentrated on the aluminium bikes. While the Y1 and Y3 looked good, the aluminium URT of the Y5 is what made me decide on that model. Any less weight is a good thing when most of your riding is up hills. Why not take the best when it's on offer?
What I ended up with was a 1997 model from Ebay. This was the top of the range aluminium mountain bike from Trek for its day.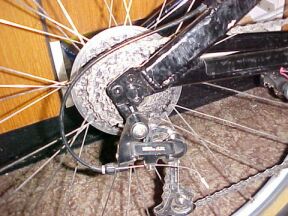 Shimano Deore LX derailleur. Note the replaceable hanger.
Although the Y bikes were sold in Australia, there were few which is hardly surprising that the Y5 was going for around A$3000 and the Y1 at around A$1400. I had no luck in trying to get one locally, so of course I turned to eBay with Y bikes everywhere! Problem was that most sellers of bikes on eBay have a policy of shipping to the U.S. only. Once in a blue moon would you get someone who would send worldwide, but it was always the wrong model or wrong frame size.
Being in the Model T Ford club provided me with a solution in the end. I was referred to a guy who runs a container service between Long Beach and Sydney who had brought in cars and parts for the club members. So, I contacted him and discussed what I wanted to do. It all seemed much easier than I thought; just get the bike sent to Long Beach and pick it up in Sydney.
Before long a suitable Y5 came up, from Utah. It was a 1997 model with original components, bare polished aluminium frame and black URT. No worries about touch up paint there! The other colour scheme for the Y5's is a purple frame with orange URT (1998 model)..
Being 6'2" tall I required a large size frame; these bikes also being available in small and medium. You can tell simply by looking what the size is. It's to do with the angle of the top part of the "Y". For the small size, the top is below horizontal, while for medium it is virtually horizontal. For the large size, it's above the horizontal and the "Y" is symmetrical in appearance.
I knew I would win the auction simply because I knew that in the U.S. they aren't used to paying as much for bikes as we are in Australia.
I got it for US$455. This seems to be a typical eBay price, with the Y3's going for about $100 less and the Y1's $100 less than that again. And speaking of Ebay, let me thank the sellers who are now linking to this page :)
In about two months the bike arrived so I went and picked it up from a warehouse in Castle Hill one night. The use of the container cost me A$200 which included the quarantine and customs inspection. I couldn't wait to get it home and assemble it. By 11.30pm I was able to take it for a short ride. The seller was even kind enough to leave a new battery in the headlight!
The bike was in excellent condition for its age with no cracks or deep scratches. It was also a pleasant surprise to find the manuals and a new Trek water bottle. The previous owner had replaced the saddle, but sent me the original as well. One of the tyres was also obviously new. So, I had no problem giving good positive feedback, especially as it turned out the seller would have sent directly to Australia had I wished.
I thought it quaint that there was a Salt Lake City bike registration sticker on the bottom bracket. I'm keeping that of course. Also I noticed that the bike would not comply with Australian standards; having no bell, no front or rear reflectors, and clear (not orange) wheel reflectors. Too bad. I'm not changing it...it's a Yankee bike and that's how it stays.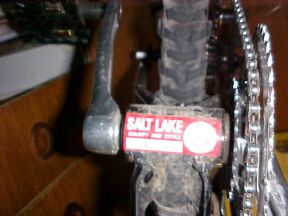 Salt Lake City registration sticker.
Specifications of my Y5.
Frame: 6061 Aluminium
Rims: Matrix Swami
Stem: Bontrager
Bars: Bontrager Race 5
Bar ends: Bontrager Race 6061
Gearshifters: Gripshift 24 speed
Brake levers: Shimano Servo Wave Action
Brakes: Shimano V
Fork: Answer Manitou Pro
Rear shock: Fox Vanilla
Derailleurs: Shimano Deore LX
Cranks: Shimano STX RC
Pedals: Shimano SPD (now Shimano PD-M650)
Chain: Shimano IG
Saddle: Oasis (prev. Bontrager Plus 10)
Rear skewer: Shimano
Rear hub: ShimnanoParallax
Front hub: System Components
(The prevalence of Bontrager parts is due to the fact that Trek bought them out. The original tyres were probably Bontrager as well)
Riding the Y5
First ride was down to the end of Terrace Falls road one afternoon after work. Once I got on the dirt it felt like riding a rigid frame! All I can say is the guy who owned it must have been alot heavier than me...the front shock was on the hardest setting for a start. I backed this all the way off and wound down the rear spring a few turns which made it feel like a dual suspension bike as it should.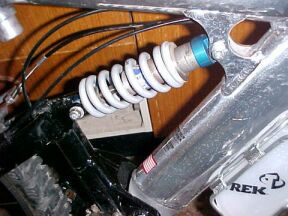 With this Fox Vanilla shock and my light weight, power loss is a non issue.
The gears were a change from the Shimano Rapid Fire shifters I was so used to. The concept of Gripshift was so totally different plus the gears worked in opposite directions depending if it was the front or rear derailleur.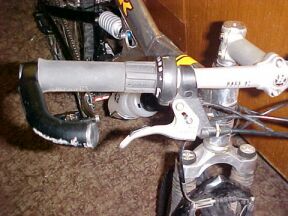 I also had to get used to the brakes being on opposite sides of the handlebar. Previously I had only been used to the right brake being for the front wheel. It might sound trivial, but the braking is totally different depending which wheel you apply most of the stopping force to. I've always preferred to use the front brake for most of the stopping power and the rear brake to provide stability.
With the Sydney Spring Cycle ride a week away, I soon had 50km of practice and got familiar enough.
At this point I had done about 100km on the bike and it was becoming second nature. What I really like with the Gripshift is there is no indexing problems. No more critical derailleur adjustments...ever! I will be able to ride this bike until the chain falls off and all the chain ring teeth wear away and still be able to change gears!
Even though there's 24 gears like my previous Malvern Star Outlaw FS, the ratios on the Y5 are far more useful and hill climbing is much easier. Perhaps the lightness of the all alloy frame helps. How many other duallies weigh 12.5kg? Not many, and the lightness of this bike is very obvious.
It is nice to have decent tyres that climb the loose sandy and rocky trails in the bush.
The frame fits me nicely, with plenty of adjustment in the seat height. So, there's been no more knee pain. I did initially get bad neck pain but that was fixed by seat to handlebar distance adjustment. Further improvement was gained by tilting the seat upward by a few degrees. It is surprising how such slight adjustments have a large effect on riding comfort.
On Boxing Day 2004 I went out for a ride to Lithgow on this bike. It was 60km of uphill riding.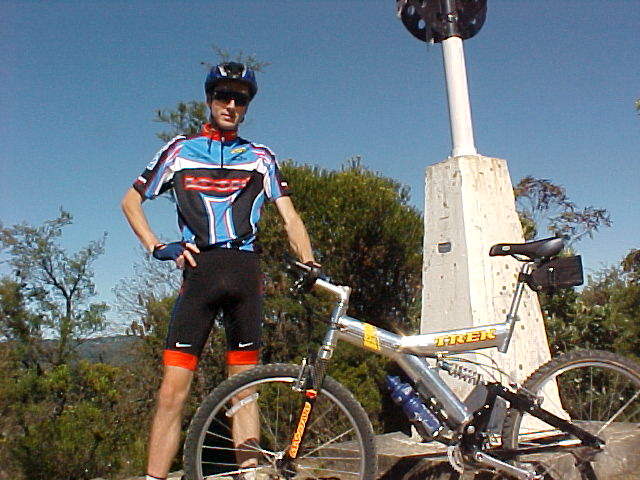 Blue Mountain Trig Station at Lawson (726m) February 2005.
---

Trek Y Series Mountain Bike introduction